What is UpWork?
Upwork is an American freelancing platform headquartered in Santa Clara and San Francisco, California. Here, you can post jobs to find the right candidate to work on your projects or you can find a job as a freelancer that matches your skills. It has become the No. 1 freelancing platform in the world.
How to Get Started on Upwork as a Freelancer
Go to Upwork and click on "Sign Up"
Sign up using your work email address, Apple, or Google account.
Add your personal data.
Describe your profile and what you do.
Include your past work experience.
Add your skills correctly.
‍For more information click here
My experience with Upwork
When I first signed up on Upwork, it was so difficult for me (Upwork does not accept any new freelancer easily). After I successfully created my account, I started to submit proposals in 2017 with the bid term at $6 per hour. You can check my profile here to get some knowledge of how to write a profile description. However, there is more and more to improve every day.
How to find a job:
Companies and clients post the jobs and we can search for the ones that fit our skills. you can click on "Find Work" and type keywords in the search box such as Shareasale affiliate manager, social media manager, administrative assistant..etc. according to your experience.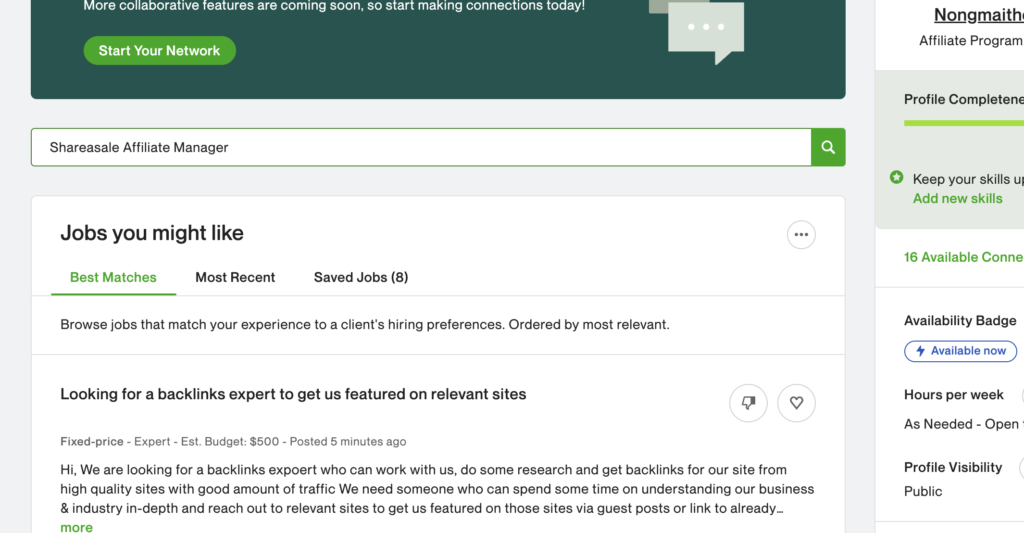 How to submit proposals:
After you click on the job post you have selected, you will see about the client's budget, how long, hourly or milestone.. etc. Then, you submit your proposal accordingly. Your proposal must be the point to point according to the job post details. Always choose the client whose payment is verified (screenshot given below in one shot).
In the term section, you put the rate you will charge per hour. So, in this case, look at the client's budget in the job post and put it accordingly.
In the cover letter, you write your proposal including all your experiences related to the job post.
Some clients ask more questions than the proposal that will be shown below the cover letter. You must be tricky in answering them.
Account Verification
Well! If the client likes your proposal and wants to further discuss it with you and hire you for this job, an Upwork executive will schedule a time to talk to you for a few mins to verify your account, your work, and your skills. You will need to show your ID card also. After that, your account will be verified and you can start working.
To start working on the project you got hired for, you need to download and install the "Upwork Desktop App" to track the hours ( select accordingly Windows, Mac, or Linux). Open the app, log in, select the job, and enjoy the tracking :). Every 10 minutes it captures a screenshot and sends a report to the client.
It is better to work hourly basis. You will be paid automatically every week for how many hours you did in the last week. Upwork handles all these so they charge a 20% fee for the money you earn through the platform. Once the earnings from one client reach $500, they charge only 10%, once it reaches $10000 they charge 5%.
Some rules you need to follow: Upwork always keeps your account tracked
You can not talk about Payment outside Upwork, your account will be deactivated.
Once your account is deactivated, there is no chance to activate it again.
If you send many proposals and no client replies, Upwork will doubt that you are sending proposal which is not fit for your skills, so probably your account will be deactivated but this time, fortunately, after a warning.. 🙂
You can not provide other communication platforms or app accounts like Skype, email etc.. in the messages. However, an old freelancer they believe can do it but not allowed for the new ones to mention any other communication app in the messages repeatedly.
These are Dos and Don'ts by the Upwork community. I believe it will help if you are a beginner.
Do you have any questions or any suggestions? I would appreciate your feedback.
Are you a web designer/developer/SEO Manager/PPC Manager? Please open an account on Upwork and we can help each other and grow together. I am planning to open an agency account if I find some good people to work with me but expert-level/ experienced is required.
There might be some typos since I write everything in a few hours…